Self Esteem Lesson Plan
Improving Self Esteem
Our Self Esteem Lesson Plan offers a step by step approach to boost low self esteem. Begin by reading how we define self esteem then progress at your own pace through these lessons.
Self Esteem Lesson Plan
Lesson 1 - Read about how the brain works. This lesson is foundation for understanding how to change your thoughts. Most importantly, it will help you recognize that by practicing new thoughts and behaviors - old patterns and habits are changed with consistent, regular practice.
Lesson 2 - Discover what beliefs you hold about yourself and decide which ones you want to change. Read about How Elephants are Trained and see if you can identify any similarities in your own life, then complete the What I Believe Worksheet.

Then take a look at this inspiring video. No matter what others think. It is what you think of yourself that produces results!

Lesson 3 -Learn meditation and relaxation techniques so you can connect to your calm, peaceful, confident, loving self. When you make this connection, you are guaranteed to feel better about yourself. Developing a meditation practice is one of the most powerful things you can do to improve your self esteem. This section explains why it is important and provides some practice techniques to get you started.

Lesson 4 - This lesson is about learning how to love yourself. You cannot have healthy self esteem without learning to love yourself. Taking action to love yourself will bring you happiness and self confidence. Follow the suggested activities in this section, then use them to control your feelings and thoughts. Part of loving yourself is nourishing your body with food that makes you feel good. Learn how food affects your mood. Also check out this video on the on self image.


Lesson 5 - This lesson is about choice. Many of us with low self esteem feel as if we have no choice. Learn how to be the dominant creative force in your life instead of just reacting to circumstances.
---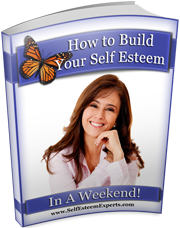 Your information will never be sold, rented or abused
Read our privacy policy.