Self Esteem Lessons (Continued)
These self esteem lessons build on the information and self esteem exercises in Lessons 1 to 5
Lesson 6 - This lesson is about the importance of setting a course and direction for your life. Your life is up to you. Learn about goals and dreams and use the tools, techniques and information to develop a vision and a plan for your future. Take responsibility for your life!
Lesson 7 - This lesson is about visualization. It is an important tool for changing behavior. Read about about why visualization improves performance and then use the activities and worksheets on this site to reprogram your mind with images and feelings of success. This section lists all the activities on the site and discusses how to change behavior with consistent regular practice of the Awareness-Choice-Change Model described in this section.
More self esteem lessons
Lesson 8 - In this lesson you will learn to request strength from an invisible energy force. There are many name for this force, including Higher Power, Spirit, God, Universal Love, and Intuitive or Higher Self. This lesson is about tuning into this power and learning to trust its' guidance.
Lesson 9 - In this lesson we explain the Law of Attraction and how to change your vibrational frequency to attract more of what you want.
Lesson 10 - In this lesson we summarize the important components for taking responsibility for overcoming Low Self Esteem. The Principles of Behavior Change are summarized and can be referred to over and over again.
Lesson 11 - This lesson expands on the information this site. We have created 21 additional self esteem lessons to support your empowerment and self esteem. The Mind Manual System is our best work ever. Use the inherent power of your mind to shift your thinking to open new possibilities for unprecedented confidence, personal empowerment and happiness in your life. Watch the video to learn more. (Clicking on the link will open a new window.)
Lesson 12 - Explore other resources on the web. Once you have completed these lessons, check out the other sites listed below that offer quality information and support for your personal journey.
Here are some sites we recommend:


National Association of Self Esteem - The association's purpose is to fully integrate self-esteem into the fabric of American society so that every individual, no matter what their age or background, experiences personal worth and happiness. Our self esteem lessons have been approved by the National Association of Self Esteem.
Positive Thinking - This site helps people learn how to master their minds for success.
Law of Attraction - Good information about the Law of Attraction.
Mind Balance and Control - Great site for learning about stress and how to balance your life.
Meditation Techniques Guide
Meditation Techniques Guide offers in-depth knowledge of Meditation and a large collection of meditation techniques that help to reduce stress, achieve mental peace and tranquility, and a total self-transformation.
SelfhelpMagazine - SelfhelpMagazine is trusted educational site developed by licensed mental health professionals. The magazine offers thousands of articles, a large support community, books, blogs, cartoons,FREE email newsletters.
---
Also see Self Esteem Lessons 1 to 4.
Go to the Home page
Be Notified of self esteem lessons updates. Click on the RSS feed on the menu bar and subscribe to our site.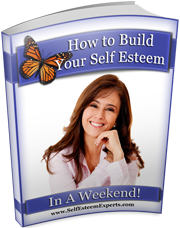 Your information will never be sold, rented or abused
Read our privacy policy.