Congratulations for Registering for
The 7-Week Mind Manual Teleclass
You are registered for The Mind Manual 7-Week Teleclass: Unleashing the Power of Your Mind.
We will meet for 7 weeks beginning Thursday March 17, 2011 at 8:00pm - 10:00pm eastern time. Use the Time Zone Converter to check the time in your area.
We will e-mail the call-in information, to you, prior to the first call (You may incur an additional charge for this call based on your long distance service provider.)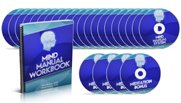 Download The Mind Manual System

If you have questions, contact us at Support@SelfEsteemExperts.com