Think and Grow Rich
Download Think and Grow Rich
the #1 Best Selling Self Help Book Ever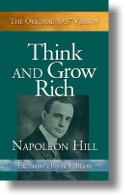 Napoleon Hill's all-time success classic,
Think and Grow Rich.
Background Information:
The idea for Think and Grow Rich began when Andrew Carnegie, America's first billionaire, first suggested it to a young cub reporter named Napoleon Hill in 1908. Carnegie, one of the world's biggest philanthropist, believed that everyone should have access to the "formula" that created his massive wealth.
He commissioned Napoleon Hill to write the book and gave him personal introductions to people including Henry Ford, Thomas Edison, John D. Rockefeller and Alexander Graham Bell as well as others. Hill interviewed successful people and then wrote about what made them a success.
The major principle of this book is:
What your mind can conceive and believe
you can achieve!